Slide Outs ☆ Awning Removal ☆ Plumbing ☆ RVIA Trained Technician ☆ Electrical ☆ Minor Mechanical ☆ Rubber Roof ☆ RVDA Trained ☆ Appliances ☆ Vents ☆ Jacks ☆ Propane Systems ☆ Licensed ☆ Insured ☆ Bonded ☆ Air Conditioning ☆ Heat Systems ☆ Leak Repair ☆ Windows
DUE TO CIRCUMSTANCES
RED ROVER RV will not be in the Rio Grande Valley this year.
I will be servicing the area of Amarillo, TX
and surrounding towns.
1-806-731-2355

On Site RV and Mobile Home Repairs


If you don't want the hassle of having to break camp to get repairs done on your RV,
I do "On Site" RV repairs and RV Service.

I perform all repairs on Recreational Vehicles.
(except engine work)
I do minor repairs on Park Models and Mobile Homes.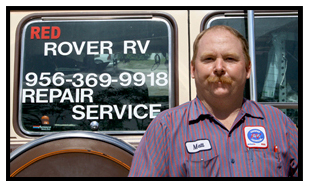 Matt Curry
☆ RVIA Trained RV Technician
☆ Insured and Bonded
☆ Licensed LP Texas RR Commission

E-mail: lautriv6@hotmail.com
1-806-731-2355
Call me for mobile RV Repair service along Interstate 40, I-40, near the Amarillo , Texas area including Bushland, Dumas, Dalhart, Vega, Clarendon, Hereford, Pampa and Plainview.


★ See my ratings on Google and Yelp ★